I have to admit, when I saw the prompt for this month's Runners Tell All link-up, the first thing I thought was
ew.
Because I have the ugliest running face ever. Don't even try to convince me that yours is worse because I can guarantee that it isn't. It's pretty much the running equivalent of Kim K's crying face. No joke.
But then I decided to make this fun and create a little contest to find the ugliest running face picture of myself that I could possibly find. And there were some real gems to be found, let me tell you! However, considering that 1) I don't want to scare everyone away and 2) this is the Internet and my lovely running face pictures would be available for anyone to find at anytime, I decided that if you want to see the winner, you possibly could bribe me with a Barnes & Noble gift card. Just saying.
But to make it up to you (since I know you're all incredibly disappointed . . .), I found my absolute favorite running picture ever!
My mom took this picture during my very first 300 hurdle race (aka, The Mean Mother Race) my freshman year of track and I'll admit that the winner of the ugly face contest was taken about seven seconds after this one. And no, I'm still not sharing that one.
Link up with
Amanda
and
Beka
and share some of your running pics - the good, the bad and the ugly (I know you have them too!)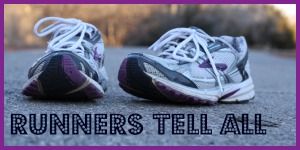 Love,
Allison